Introducing "Virtual Dinner Parties" ~ a special place to connect, bond and help one another.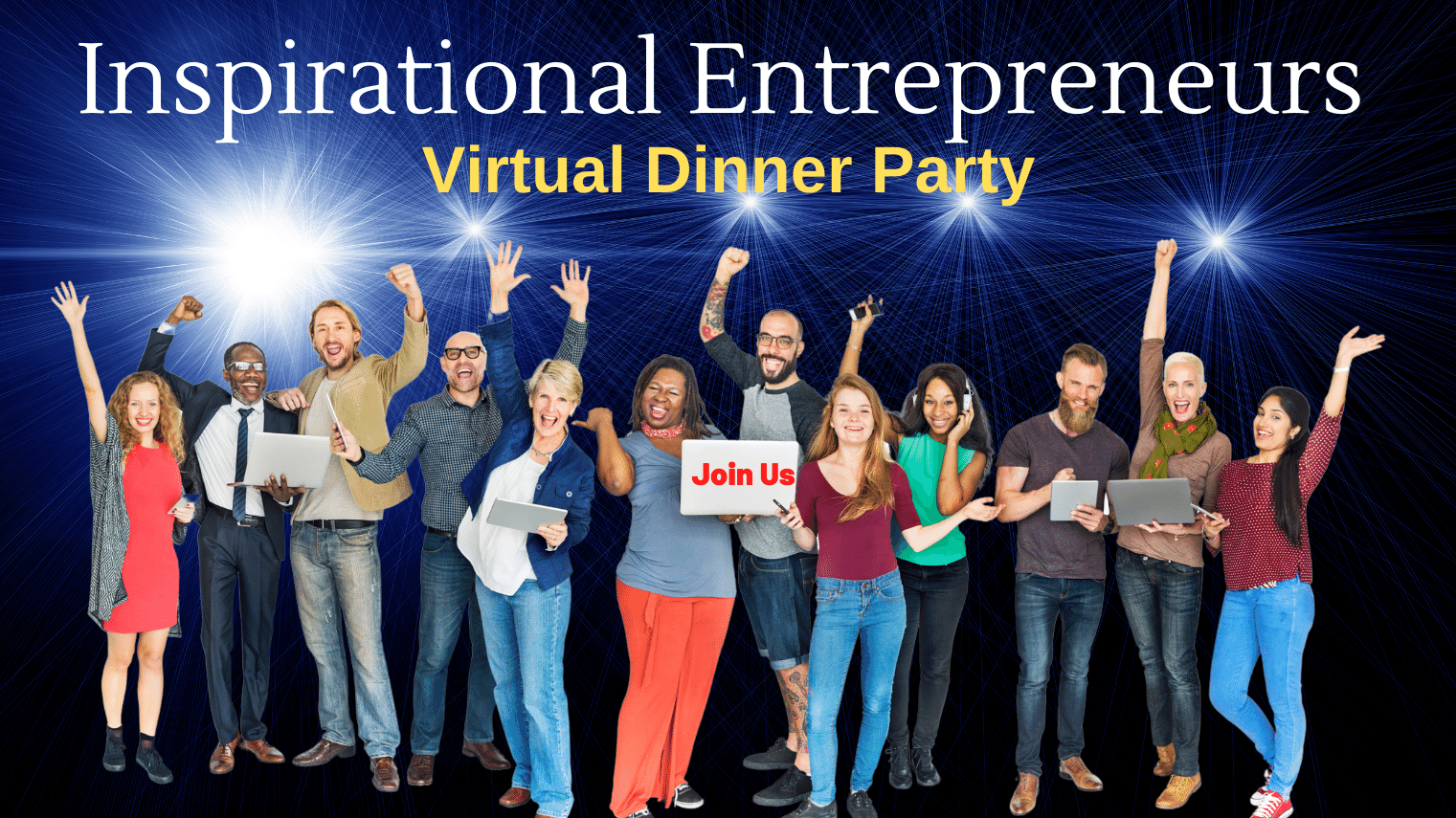 As the creator of the Inspirational Entrepreneurs Who SHINE Online Facebook Group, I'm inviting you to our next Virtual Dinner Party for Entrepreneurs to come together, connect and help market each other.
Envision this being a combination of a mini mastermind and a relaxed group mixer where you get to connect with your fellow entrepreneurs.
The Virtual Dinner Party, is designed for entrepreneurs who want to SHINE online and build their authority as a sought-after expert. This is one of the most authentic marketing approaches business owners have ever experienced.
What is a Virtual Dinner Party?(What it's NOT!)
During this virtual gathering of entrepreneurs and small business owners, we'll help each other with common marketing challenges like getting more visible with video, building a 5-star reputation, and attracting more 5-star clients.
There is nothing for sale in the Virtual Dinner Party.
This is not a networking event, we all hate those.
VDP (as we call it for short) is not a teaching webinar where you don't get to talk.
How Does the Virtual Dinner Party Work?
We'll be meeting on Zoom and you'll be going into break-out rooms of 3 and chatting about business growth topics that inspire genuine interaction and mutual support.
Helping someone is the best way to bond with them and in this 2-hour event, you will bond with 12-25 like-minded online entrepreneurs.
So the Virtual Dinner Party is like having a focus group to get feedback on your marketing message, and helpful ideas from your peers.
Many a joint marketing venture has come out of the relationships in the VDP. Coaches have landed clients, gotten referrals and learned time-saving nuggets and marketing insights.
Being an online entrepreneur can be lonely and we never do our best work in isolation, so the friendships formed here are priceless and your contributions can make a real difference for others who are struggling in these challenging times.
What is the catch? There isn't one other than needing to join our group of like minded entrepreneurs.
As part of the Inspirational Entrepreneurs Who SHINE Online Facebook Group, I'm excited to run these private virtual business parties as a new and inspired service to group members. And if you know someone who would benefit by joining us for a VDP, feel free to invite them to the Inspirational Entrepreneurs Who SHINE Online Facebook Group where we inspire members to step out of their shadow and SHINE online as an expert in their niche.
This is my showcase event for you to come experience a VDP gathering of inspired entrepreneurs where there is never anything for sale, but is all about relationship building.
RSVP to join us and you will receive more info with a choice of dates to attend.